40-6616 Tile Laser / Flooring Laser Level
Note from Johnson Level:
The 40-6616 Tiling/Flooring Laser Level is an easy-to-use laser for anybody with a tile, stone, brick, carpet or hardwood flooring project. With simple one button operation to generate the two laser beams that form a 90 degree angle, this tool saves time and effort when taking on a DIY flooring project. For larger projects, the included floor target extends the visibility of the laser beams. This review was written by Harold Therault and can be viewed in its original form on lunch.com.
Product Review:
This review is for the #40-6616 Tile Laser / Flooring Laser level by Johnson Level & Tool, manufacturer of spirit levels, laser levels and construction measuring tools.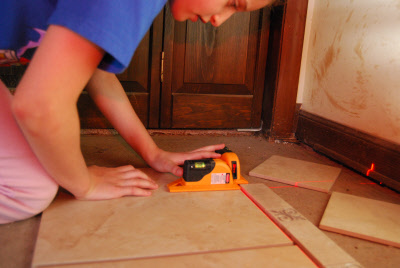 Before we begin, just in case anyone was wondering if the word laser stood for something, the answer is yes. You might be surprised to know that the word laser stands for: "Light Amplification by Stimulated Emissions of Radiation". The type of laser that Johnson uses is the semiconductor laser type. There are too many different types of lasers to go into to discuss. The other important thing you should know before you purchase one of their laser levels is that each of them has a bubble level on them and it is simply a small glass vile of mineral spirits, the liquid is non-toxic if it ever gets broken. Just make sure that you try not to swallow or get this into your eyes if this does ever happen. As long as I have used these types of levels I have never had one of the glass parts break and the liquid spill out. Unless you purposely hit one these with a hammer, you could drop one of these levels and it will not break on you.
I have laid several different types of floors in my life, but the one that I think that is the most durable is either the solid wood or the ceramic tile type. My next project is a ceramic tile floor, and since we are going to be staring and walking on it for over thirty years, I wanted to do it the best way that I can. The best way that I can do it, is by using the best tools available to me and by using the laser tools, more specifically the Johnson 40-6616 Tile/Flooring laser level. If you are wondering where to find such a fabulous wonder tool, well you can find them at any of the big box home improvement stores such as Menards, Northern Tool, Home Depot, Sears, etc. for right around $60.00. But the easiest way is by going to their website or just clicking on the link above.
Description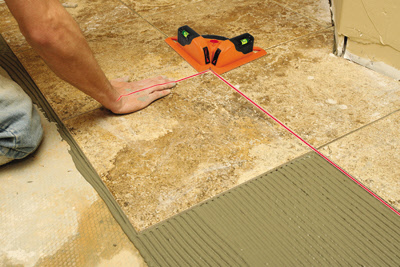 This laser level only weighs 9.9 ounces and comes with two AA batteries, an orange nylon pouch, a red transparent floor target with a stand attached to the back and a magnet located at the top of the stand. If you know what a rafter angle quare looks like, that is what the shape of this laser levels are. This laser level is in the shape of a triangle with a red on/off button located on top and a red led light to let you know that the lasers are on. This button operates the lasers to come on when pressed.
This actual dimensions of this laser level is 2" in height and 6 1/8" along one side (there are 0 to 5" markings on this side), and on the other side you will see 0 to 13 Millimeter markings. On the third side you will have degree markings from 0° to 90° in 15° separations. These markings will be hard to wear off as long as you can take care of this tool. There are two clear glass windows ½" x 3/16" in size for the lasers to shoot out of. There are also two glass bubbles levels located on each side of the Laser level to make sure that the tiles or flooring is level and it does not throw the beams out of range. On the top the laser windows are protected by rubber and the rest of the level is made of a very durable and hard plastic. Located on the bottom of this laser level has three raised square sections that will help you set this up evenly on the top of your tile floor.
These laser levels are manually operated and have a wave length of 635nm (red) and a range of 100' without the laser detector. Depending on the lighting condition, when you are inside you can get 30' without a detector, this laser level is accurate to +/- ¼" every 60'. This laser level has two beams that will shoot out at a 90° angle. There are several classes of laser levels and this one is a class llla laser level. The maximum output of this laser level is 5 milliwatt and the best operating temperature for this laser level is 14° F - 113°F anything cooler or hotter will affect the range and operation of this laser level.
Experience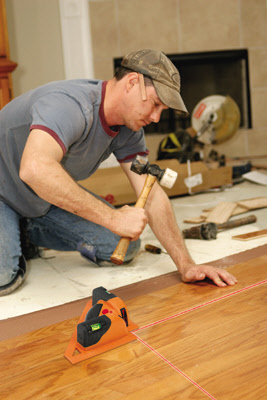 I have used this on my ceramic tile flooring, by setting this laser level on the corners of the tiles and using the floor target by the wall, you are guaranteed to have a level tiles and straight lines. With just a simple push of a button, this floor target will allow you to have better visibility when the lighting conditions are too bright for you to use laser levels by itself. The longer that you keep the red beam in sight the less that your flooring will travel off of the line that you need it to stay on. When you first put this down make sure that you do not forget where the floor target is, because since it is out of the way and when you least expect it, you may forget and kick it when you are not looking.
With the help of your spacers these laser levels will help make sure that your tiles will be level and straight. When you notice that your tiles are starting to travel, the laser will help in this department, without it you could be out of alignment by the time you get to the wall. If you have this laser level it will catch your attention immediately. This will have a nifty nylon pouch to keep it in when it is in storage for all of those future jobs, such as hard wood flooring, stone, and even carpeting. With the built-in protractor, if you have any angles that need attending to this is the perfect laser level for the job.
Conclusion
I can highly recommend that if you purchase one of these laser levels by Johnson, your flooring project will look professionally done. You can't beat the price, for only $60 you will impress your friends and family and they will think that you had some professional contractor come in and lay your new floor in your home. The thing to remember is to keep your eye on the red line and the floor target and everything will look expertly done.