40-6048 Digital Level
Note from Johnson Level:
The 40-6048 Digital Level has been increasingly popular due to its accuaracy and ease of use. This level is great for determining level and slope positions and can be used in a variety of jobs. The following review by Todd Fratzel at ToolBoxBuzz.com explains some of the advantages of this level and states that he keeps his in his truck at all times. Read this Johnson Digital Level review in it's original form at Toolbox Buzz.
Glo-View® Digital Level - Model 40-6048 Review
Digital levels are becoming very popular throughout the construction industry. The folks at Johnson Level and Tool sent me their Glo-View® Digital Level – Model 40-6048 to evaluate. It's a 48″ bubble level with a built-in digital component as well. This is a really nice digital level and one I'd recommend for sure. Read on to learn more about the Model 40-6048 from Johnson.
Glo-View® Digital Level Specifications and Features
Working Range Angle: 360°; Display ±90°; Definition Rate of 0.1°
Accuracy: ±0.1° for 0° and 90°; ±0.2° for other angles
Power Supply: 3 "AAA" alkaline batteries
Battery Life: Approx. battery life 60 hours continuous use
Working Temperature: 14°F to 113°F (-10°C to +45C)
Patented Glo-View® vial enhances readability in low light
Natural light or hand-held light sources re-charge the vial surrounds
LCD screen rotates for easy top reading
5 construction languages – units of measure:

degrees
percent
mm/m
in/ft in decimal
in/ft in fractional

Self-calibrated
0° to 10° and 80° to 90 °position of inclination is confirmed by a signal tone
Numbers invert for working overhead
Reference function making any slope "0.0′
Hold function locks measurement on the LCD

Johnsons Digital Level Durability & Accuracy
Durability and accuracy are the two words I'd use to describe the Johnson Glo-View® Digital Level. I've always been a firm believer in spending good money on layout equipment like levels. Your finished product is only as good as your ability to consistently build level & plumb surfaces. The Glo-View® Digital Level combines the best features of a quality bubble level with the advanced features of a digital level in one durable, quality tool.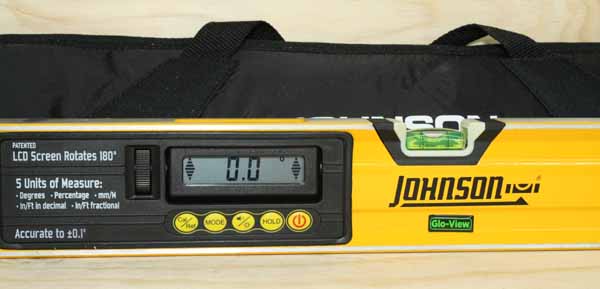 The overall quality of this level is very good. Machined surfaces offer a really nice straight edge. The ends have rubber bumpers to protect the level from impact drops. These levels offer nice large hand holes which make them easy to hold when climbing ladders and working in hard to reach areas.
Bubble (Spirit) Level
The bubble level on this Glo-View® Digital Level is really nice. Johnson uses their patented Glo-View® technology to help improve readability in low light situations. The Glo-View® absorbs energy in the form of sunlight or even an LED flashlight, and then slowly releases the energy as light over several hours. I happen to really like the Glo-View® bubbles on Johnson levels, they are much easier to read and work very well.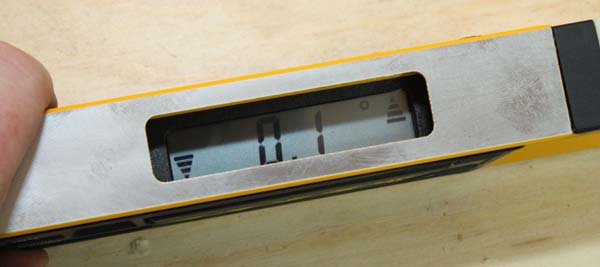 Digital Level Features
Many of you probably think that digital levels are a bit gimmicky but I'm finding them quite useful in my day to day job. One of the best uses for digital levels on my job is checking slopes for ADA compliant ramps and entry ways. Today's codes are getting harder and harder to comply with so having an accurate measurement of slope angles is critical.
The digital level features on the 40-6048 are really nice. You can set it up for 5 different measurement types including; degrees, percent, mm/m, in/ft in decimal and in/ft in fractional. The display is easy to read and offers a back-lit display for low light situations. The display can be rotated so you can read it from the side or top of the level depending on where you're standing.
The level isn't super fast when waiting for it to find the actual angle. It can take up to a couple seconds or more in some situations to report a final angle. While I don't think this is a big issue when trying to measure slopes some folks might find it sluggish.
Another nice feature on the digital level is an easy to use calibrate mode where you can re-calibrate the level if it's not running true after dropping it or bumping it.
Overall Impression
I really like this digital level a lot! In fact…it's sitting under my seat in the truck as my primary level for job site visits now. This is a perfect level for guys who need the benefits of a standard bubble level and the extra features of a digital level. Johnson makes great levels and this one is no exception.