Laser Distance Measure
View all laser distance measures from Johnson Level.
Accurate Measuring: Fast & Easy

With a simple 1-2-3 measuring system (Point-Press-Done), the Johnson Laser Distance Measure is the right measuring instrument for any jobsite. It is capable of recording measurements to 1/32" for skilled trades people requiring a tight read. This tool is great for any estimating material list: trim, drywall, cabinetry, conduit, pipe, ducts, to exterior siding. A laser distance measure tool will help you get the job done faster and more accurately.
Key features of the Johnson laser distance measure:
Patented Sound Activated Measuring Mode (no more waiting for the countdown timer)
3-Indirect Measuring Modes (single & double Pythagoras and partial height Pythagoras - see below for a further explanation Indirect Measuring)
10 Measurement Memory Recall
Continuous Laser Mode
Other features include:
Tripod thread (1/4"-20) enables precise long distance measuring (Essential to achieving accurate Pythagoras Indirect Measurements).
Adjustable measurement reference settings (Rear, front & tripod thread locations)
Side measure button (ergonomic)
Level vial for achieving the final measurement in the Indirect Measuring modes (90 degree measurement required to calculate height or width)
Proper Use Creates Successful Results
While a laser distance measure tool is remarkably fast and efficient there are situations which will challenge any make or model. Let's start with the basics. The key to taking successful measurements with any laser distance measure product begins with aiming at a solid target. Attempting to measure highly reflective, porous, translucent, water covered or bright sunlight covered surfaces will be difficult. This is true of all laser distance measuring products and is not a defective issue. It is simply the nature of the product.
To explain in simple terms how these tools work: A laser beam is emitted from instrument and once it makes contact with a surface the beam is reflected back to the instrument. There is a lens that receives the reflected beam and determines (by the rate or speed of return) the distance of the surface or object. If this surface has poor reflective properties the return signal will be too weak for the instrument to calculate the distance. Likewise, if a surface has a highly reflective surface (or is in direct sunlight) the laser distance measure will not receive the sufficient return signal to determine a distance.
As with any new technology, start off easy and work your way into more advanced measurements. Once you get comfortable with how the LDM operates you will naturally begin to trust the results. This instrument is designed to take accurate measurements and will meet your expectations if used properly. In other words, taking measurements in compromising settings (ie wet surfaces, porous surfaces, moving targets, temperature outside specified range, etc) may result in inaccurate measurements. If you are first time user start out using the product to take estimation measurements. If you don't think this measuring tool will be as accurate as your tape measure then double check your results against your tape. In no time at all, you will be impressed with the ease and accuracy of the Johnson 40-6001 laser distance measure's capabilities. One very important piece of advice is to ALWAYS take several controlled measurements (Of a known distance) to insure the tool is reading properly prior to taking critical measurements.
Indirect Measuring / Pythagoras In Simple Terms
Pythagoras is famous for creating the Pythagorean Theroem (a² + b² = c²). If you know 2 lengths (but not the third) this formula allows you to calculate a missing dimension of a triangle. There is a point to this so don't stop reading yet! The Johnson model 40-6001 is equipped with 3 Indirect Measuring Modes. Each works based on the Pythagoras equation. How you ask? If you are looking at a wall and you want to quickly estimate the height but don't have a ladder to climb to drop a tape to obtain the measurement. Simply choose the Indirect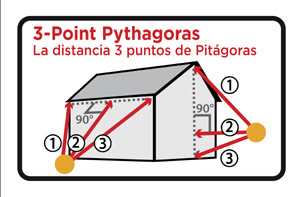 Measuring Mode you need, take the 2 (or 3) measurements required from where you stand and the laser distance measure will calculate the height of the wall for you. No need to do any math! This function is based off of a triangular dimension so Indirect Measuring can also calculate the width of a wall. You just need to position yourself accordingly.
Interior Applications
Length Measurements
Carpentry
Crown molding
Chair rails
Base boards
HVAC
Electrical
Conduit lengths
Wire/cable length
Determine light/lumens requirements
Plumbing
Pipe length
Distance between pumps
MRO
Measure distances between machines
Conveyor belt lengths
Determine clearance heights of high voltage lines
Area Measurements(Square feet/meters)
Room dimensions
Estimating material (drywall, flooring, lumber, HVAC, painting, drop ceilings)
Determine "footprint" of equipment or materials
Volume Measurements(Cubic feet/meters)
Concrete pours
Duct dimensions
Industrial oven volumes
Room volumes for air exchange/flow
Insulation requirements
Indirect Measurements(Pythagoras: Height or Width)
Window/window covering dimensions
Structure/equipment dimensions
Vertical or horizontal surface dimensions
Continuous Measurements:
Walk-off measurements quickly
EXTERIOR APPLICATIONS
Length Measurements:
Siding
Trim lengths
Gutter lengths
Exterior wall lengths/widths
Parking lots
Indirect Measurements:(Pythagoras: Height or Width)
Window dimensions
Structure/equipment dimensions
Vertical or horizontal surface dimensions
Note: Exterior use may be limited based upon lighting conditions, temperature range and an optimal target surface to achieve accurate results outdoors. Unfavorable conditions such as direct sunlight, porous/unreflective surfaces or temperature conditions outside of specified range will deteriorate the effectiveness of the laser beam which could compromise the ability to take measurements in some situations.
Accessories
A 1/4" - 20 tripod, although not necessary to use, will offer stability, particularly with indirect measurements.
How to Calculate Distance Using a Laser Distance Measure
Press the power button to turn the laser distance measure on.
Choose a measuring reference position: front, rear or corner extension piece.
Line up the measure accordingly. For instance, if measuring from a wall with "rear" measuring reference position, place the rear of the measure against the wall.
Direct the laser beam towards the target.
Press and release the "measure" button.
Keep the meter still until a measurement has been recorded.
The laser beam will shut off once a measurement is recorded.
Press and release the power button to clear the screen.
Press and hold the power button to shut down.
How to Calibrate a Laser Distance Meter
To ensure your laser distance measure is calculating the right distance, you will need to compare with a physical measure, like a tape measure or yardstick.
Measure a length with the yard stick or tape measure.
Either make a mark or secure the tape measure in place.
Place the laser distance meter at the exact distance indicated by the tape measure. Make sure your meter is set to the right measuring position (front, rear, corner extension piece).
Turn on the meter.
Direct the laser beam toward the target.
Press and release the "measure" button.
If the figure on the laser measure is considerably larger or smaller than the actual measurement, return the laser distance measure to the manufacturer to be readjusted.
How to Use a Laser Distance Measure
Aim the device at what you want to measure from the chosen starting point.
For example, if you want to measure from a table to a wall, either hold the device at longitudinal equivalence with the table or place it on the table, and point the device at the wall. If the distance you want to find does not have two physical points between it, you can use objects to aim at instead.
Turn the device on.
Let it cycle to ready.
Hit the 'measure' button.
Wait for the device to find the distance.
For more handy how-to's on using levels, measures and other tools from Johnson Level, check out our full collection of how-to guides.
View all laser distance measures from Johnson Level.