Box Levels | Box Beam Levels
Box Beam Level Overview
Box beam levels or box levels are a type of spirit level and are called such because of the shape of the level frame. If you were to cut the box level in half, you would see the aluminum is formed (extruded) in the shape of a rectangle(or box)and is generally hollow in the middle. The key to a box level's strength is its shape with four points of contact to withstand an impact. Box beam levels feature block vials, solid pieces of acrylic that are machine set into the box level frame at a high degree of accuracy. The highest level of accuracy in box beam levels is 0.5mm/m in all level positions. Only a few level manufacturers can consistency meet these accuracy standards. Box beam levels are traditionally yellow in color, so they can easily be recognized on the construction jobsite, and feature a yellow-green vial, which is also the most visible color to the human eye in a variety of light conditions.
Box beam levels entered the U.S. market from Europe in the 1980's. Stabila, a German manufacturer of box levels in Europe began converting professional users from the wood level, while Johnson Level & Tool, with the manufacturing help of another European level manufacturer, began penetrating the retail market. The box level is made from high grade aluminum and has two distinct features over I-beam levels:
Frame Rigidity - due to the box (square) construction, there are four points of strength to the level. It is generally more difficult to twist and bend, and even if you could slightly, due to aluminum's muscle memory, it comes immediately back into place.
Solid Acrylic Block Vial - which is resistant to direct impact. Traditionally, the professional contractor box beam level is yellow - this is the most recognizable on the construction site and preferred color, although today, box beam levels can be found in red, blue and gray.
Another feature of box beam levels, which until recently has been unique to this level frame, is hand holes with a soft-touch grip. The holes are very generous in size, so they can accommodate a gloved hand to easily get into and out of it, and they are non-slip. For added quality, these hand grips are screwed into the frame, rather than glued, so when the levels falls to the ground, the level will stay together.
Who Uses Box Beam Levels?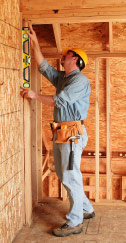 Primarily, box levels are used by framers, who will also use magnetic box beam levels in door jams. Next, finishing carpenters will use professional box beams for their accuracy. Finally, box beam levels are used in "wet" trades as a replacement for the wood level. Although the box level does not have the benefits of wood levels in terms of bubble travel (due to the dual, curved vial system) or working in hot or cold jobs where aluminum will absorb the heat or cold, the box beam level does clean up well when covered in mortar!
A four foot professional quality box beam level can be found in most home centers and hardware stores for around $35-$40, while on the high-end, European box levels can be found in contractor supply houses for $100. A thinner-profile (smaller dimension) box beam level, although popular in Europe due to its low price, has made entrances into the U.S. market by various manufacturers over the years without much success. It seems the American contractor is partial to heavy duty, solid construction.
Read More About Johnson Box Beam Level Products
©2010 Johnson Level & Tool Mfg. Co., Inc.