Lazer Levels vs. Laser Levels: what's the difference?
Etymology of Laser/Lazer
Mequon, WI, April 27, 2015 - Johnson Level's laser levels combine cutting edge technology that embraces traditional aesthetic grit to create products that are innovative, stylish, always guaranteed accurate, and "Job Site Tough". Our products are irresistibly fun and tenacious while maintaining the toughness you've come to expect from Johnson Level.
There's a fine (level) line between attractive, high-tech, tough, and practical levels, and a redundant blend of technology focuses on the initial wow factor.
Johnson Level has known those differences since 1947, and we've delivered top-notch, quality, and innovative levels from the start.
1980s: Eccentricities Reflected in Fashion and Technology with Laser-Precision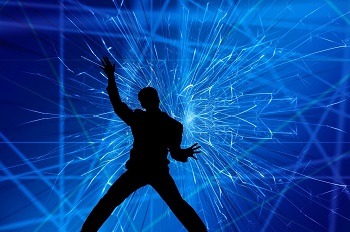 The introduction of the home computer in the 1980s might just be the most important moment in human history. Looking back, we can see the 1980s as a starting point for a general shift perceived reality.
When you think of the 1980s as a decade, what comes to mind? Obviously, it depends on who you ask. If it was a poll question today, bright colors, computer technology, and striving for redefinition would be in the lead probably. human history. Looking back, we can see the 1980s as a starting point for a general shift in perceived reality.
We can see it as the start of an era, where technology took on new meaning. Where the tradition vs. innovation was redefined; where real, tangible things started becoming simulated; and where lasers and neon lights are leading visual definition of the decade.
Laser : Lazer :: Light : Lite
Technically, lazer wasn't a word and neither was laser, but here's the great thing about language: it collectively adapts, just like technology. To some, language is technology. Linguists teach that ultimately there are no rules or constraints on language; it's ever-changing and evolves based on the needs of it.
Laser originated from the acronym, L.A.S.E.R. meaning: "Light Amplification by Stimulated Emission of Radiation" – an unglamorous bunch of words, when made into a glamorous acronym, became a consumer product with aesthetically pleasing results.
Lazer refers to:
A 1980s Wisconsin radio station – Lazer 103; focused on modern (at the time) rock
Lazer Tag: introduced by Worlds of Wonder in 1986, and currently a subsidiary of Hasbro's NERF Toy line.
Lazer Tag was real-life shooting game, using L.A.S.E.R. (acronym: laser) technology to tag opponents. In a short definition it's a simulation of modern war without death. It still exists: usually played in dark, neon-lit and maze-like rooms, and commonly known as "laser tag," "lasertag," or "lazertag," the game is played by teaming a number of individuals against the same number of a different group of individuals. The goal: to be that last untagged team.
L.A.S.E.R. v Laser v Lazer: misspelling on a new level
When typed into popular search engines, lazer level gives you results for laser level, which is probably what you intended to find anyway.
Spelling and misspelling are perceptual issues of the past. Innovations like spell-checking and auto-correcting technologies were introduced to make end-user experience of home computer users easier and more pleasurable.
Those early linguistic technologies evolved into almost flawless technologies such as speech-to-text, text-to-speech, auto-correct, and auto-complete, and we seemingly don't need to focus on spelling anymore. We can spell something wrong in a search engine or a word processing document and as long as it's close, we'll find what we're looking for. This isn't by mistake. For example, online, it's mutually beneficial for both the consumer and the producer.
What about the middleman, middle-woman, or middleperson – does spelling matter for them?
While spell-check is essential to the middle person, it's because they used to be the end-user. It's a safety net - because in their case, spelling DOES matter. The middleperson uses spelling and intentional misspellings to make spelling not matter anymore – at least digitally. It's what goes on behind the scenes that made an L.A.S.E.R. world into a laser world.
L.A.S.E.R is rarely used outside of scientific to scientific applications. Why? To make the consumer / end-user's experience simpler and more enjoyable. In a world geared toward making experiences more enjoyable and easier, spelling (among other things) overall doesn't seem to matter anymore.
Contact Johnson Level to ask about the perfect "Job Site Tough" lazer level for your need(s).