Johnson Level & Tool Announces Measuring Tool Line Expansion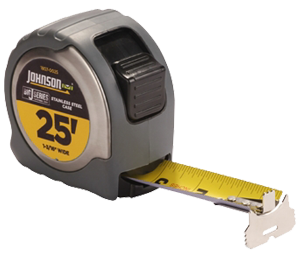 MEQUON, WI, July 7, 2010 --Johnson Level & Tool has expanded its measuring tool line with five series of power tape measures and four series of long tapes. These 18 new tools join a 2009 expansion into laser distance measuring and measuring wheels.
Johnson Level's new tape measure program ranges from a basic professional tape measure to a high-impact stainless steel model, with retail prices ranging from $4.99 to $14.99. Its long tape measure program consists of fiberglass, steel and nylon-clad high-grade carbon steel models, nearly all containing the Gear Drive system which rewinds tapes three times faster than traditional long tapes. Retail prices range from $15.99 to $89.99.
John Dwyer, Vice President of Sales & Marketing said, "Over the years, Johnson has built a comprehensive portfolio of leveling, marking and layout tools which includes construction grade lasers and spirit levels. Now Johnson offers a broad spectrum of measuring tools to give the contractor a high quality tool which represents the highest value finished product available anywhere."
Johnson Level has added over 60 new products in the past three years, focusing on creating the industry's broadest and deepest lines of contractor tools in key categories related to leveling, layout, measurement and marking.