Johnson Level Launches the Johnny Square Professional Aluminum Rafter Angle Square
MEQUON WI, January 10, 2013 – Johnson Level & Tool, the leader in levels and lasers, has introduced the patented Johnny Square® rafter angle square. The Johnny Square® is a professional Aluminum Rafter Square that includes patented features contractors want and need.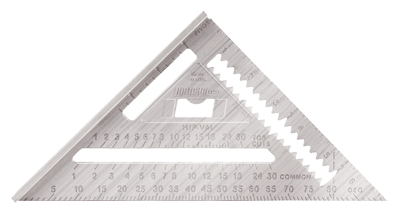 The new Johnny Square® is the planets only 7" square with continuous 1/8" scribing notches specially marked for 2" x 4" and 2" x 6" rip cuts. "After speaking with our customers and contractors on their jobsites, it became apparent that scribing notches specially marked for ripping at 3-1/2" and 5-1/2" were needed for fast and accurate measuring," said John Dwyer, Vice President of Sales and Marketing at Johnson Level.
"I have replaced every square my guys and I use because the new scribing notches save us time on every project. It's a no brainer, we need the new features on the Johnny Square® everyday and it's the only square that has them," said John Wong, owner of JHW Builders in Milwaukee, Wisconsin and homebuilder for over 25 years.
The Johnny Square® is made in America and also features a solid aluminum body with CNC machined edges for greater accuracy and durability, and permanent graduations and numbers on a low-glare, protective powder coated finish for easy reading. The Model No. RAS-1 Johnny Square® is just one of the squares Johnson Level offers in their extensive line of rafter, framing, combination and t-squares.