Choosing Digital and Electronic Levels
Digital and Electronic Level How To's
Shop all Digital and Electronic Levels from Johnson Level.
This article will help you choose between digital and electronic levels. Some digital levels resemble traditional box beam levels, except they include an inclinometer and LCD display. While other digital levels include angle finders and lasers to extend the line or angle.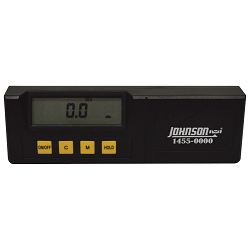 How to Choose a Digital Electronic Level
Consider the space allowed in your project. Need to get in tight spaces? Use portable inclinometer for tight spaces.
For longer metals or vertical magnetic surfaces, use a digital magnetic laser level to keep your hands free.
Working in the dark? Use digital levels with glow in the dark vials or backlit LCD screens.
If you need to find precise angles in walls or ceilings, use a digital angle locator.
For installing new machinery, use a machine mountable electronic level with Bluetooth capability.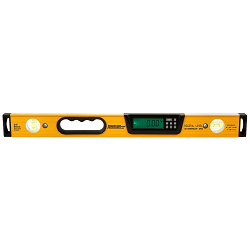 How to Use a Digital Electronic Level
Place the digital electronic level on the surface you want to measure.
Wait a moment for the level to settle on a degree reading.
Adjust the surface accordingly to bring the degree reading to 0.0 degrees, or level.
Double check the level reading by referencing the bubbles vials, if they are present. If the vials and LCD screen do not match, your electronic level needs to be recalibrated.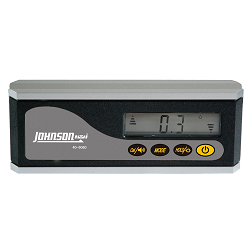 How to Calibrate an Electronic Level
Find a table or other flat surface.
Wait for the level to stabilize.
Some electronic levels display degrees. If yours does not, skip to step 7. If so, continue to step 4.
Record the degree rating. Rotate the level 180 degrees and record the rating once again.
Turn the level over and record the degree rating. Rotate 180 degrees once more and record the final rating.
If any two values have a difference greater than 0.2 degrees, your level needs to be recalibrated. Consult the user's manual.
Activate the calibration function in accordance with the user's manual.
You will need to find level horizontally and vertically by aligning bubble vials perfectly in many different positions. Consult the user's manual for specific instructions.
Models Recommended
40-6028 / 40-6048 24" and 48" Digital Levels (#1 features: Glo-view® glow-in-the-dark vial system)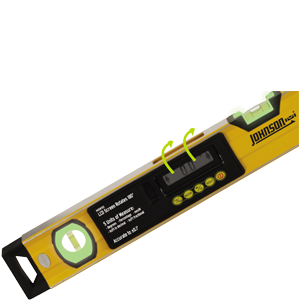 40-6060 Electronic Level Inclinometer (#1 feature: small, portable size)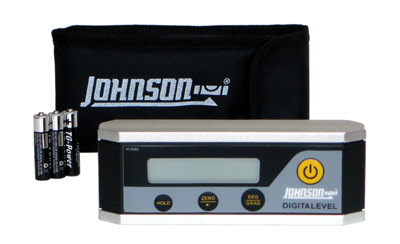 40-6080 Electronic Level Inclinometer with Rotating Display (#1 feature: laser beam to transfer reference points)

40-6065 Digital Laser Level and Angle Locator (#1 feature: includes the angle finder feature and a laser)

40-6064 Digital Angle Locator (#1 feature: value)

Key Features
LCD screen digitally displays inclination in five construction languages
Automatic digit inversion for overhead measurements
Audible indicator
Common End User Applications
1. Contractors
Machine installation for level and plumb
Handicap ramp installation
Measuring slope or incline
2. The 40-6065 (Digital Laser & Angle Locator) and 40-6064 (Digital Angle Locator) can be also used to:
Measure angles
Bend pipe or sheet metal at precise angles
Window and door installation
Counter top installation
Accessories
None
For more information on choosing the proper level, visit Johnson Level's guide on how to's.
Shop all Digital and Electronic Levels from Johnson Level.
©2010 Johnson Level & Tool Mfg. Co., Inc.