118000 Picture Perfect Level
Note from Johnson Level: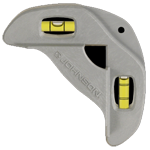 The Model 118000 Picture Perfect Level is a patented, handy and durable level from Johnson that no household should be without. This level reads level and plumb simultaneously while leveling picture frames, mirrors, appliances or any other wall hanging. The level's molded housing will not scratch painted or wood surfaces. This level is a must to help decorate a home. This review was done by Gear Patrol and can be viewed in its original form at gearpatrol.com.
Picture Perfect Level Review by Gear Patrol:
Discovering a niche tool that makes one's task exponentially easier, no matter how small it may be, is one of the most satisfying feelings we can have as Gear Patrol product gurus (stepping off soapbox).
Sure, a normal level is more than capable of helping decorators properly hang artwork, but the Johnson Level & Tool Picture Perfect Level ($5) will put all of those irritating frame nudging adjustment to an end. Is this life changing? No. But we can't deny its appeal to some of our more OCD staffers (ahem, Eric). Think about it, is coughing up $5 for perfectly aligned wall art really too much to ask? Jerry Seinfeld certainly wouldn't think so.