WANT TO SHARE SOME OF YOUR PROFESSIONAL KNOWLEDGE? Submit an article (1,000 word min.) to LEVELPEDIA.COM and if we use it, we'll ship you a brand new Glo-view® Box Beam Level! Topics can include how you use a level or laser level or how to complete a project. LEVELPEDIA.COM is your online resource - used and created by you.
Send your article to: emarketing@johnsonlevel.com.


---
Johnson Wants You to Learn About Levels, Laser Levels and Measuring Tools!
LEVELPEDIA.COM is Your Online Resource to Learn About Construction Tools
How Tools Work:
Use this section for a quick understanding of tools, in an easy-to-read format.



What are the differences between I-beam Levels and Box Beam Levels?
Why is green a better color for lasers and levels?
How do you use a carpenter square or combination square?

Uses and Applications:
Use this section to get jump started on where to use your levels and laser levels.



If I'm a building contractor, can I use either a rotary laser or an optical level?
What Product Applications are the best fit for what tools?



Choosing the Right Tool:
Use this section as a double-check on your next purchase.Making sure you have the right tool for the job is important to buying the features you need and not buying features you don't!



What's important when it comes to buying Rotary Laser Levels?
How do I choose a laser distance measuring tool?
What features on laser levels do I need for what jobs?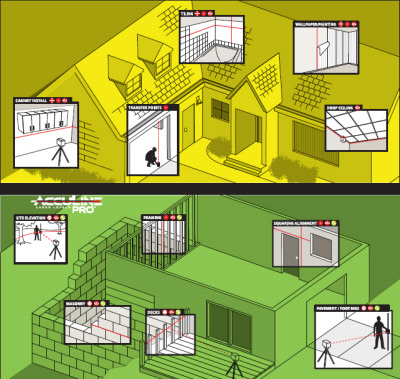 1804-0025 Power Tape Measure with Auto-Lock
Review by: Harold Therault
Product Review:
Watch out Sears Craftsman, Stanley, Lufkin and Komelon, Johnson Level & Tool is on the rise with its new line of power tape measures and long tapes. This company may not have been around as long as the tape measure, but it surely is on the rise when it comes to new technology in products. Keep your eye out for this name brand.
Just a little history lesson is needed for this product and that is, have you ever wondered how long the tape measure has been around or where did it come from? Well, it has been around since 1865, when Justin Roe and Sons started producing steel ones. Then in 1868 Alvin J. Fellows got a patent on the ever popular tape measure. Justin Roe & Sons made the longest steel tape measure, which measured 600' in length and presented to Babe Ruth. The tape measure was originally made for tailoring, and made out of cloth, plastic and even fiberglass. These are made of several different lengths ranging from 3' - 100' and even 300'. Most of the time you can find the longer ones on construction sites, but the smaller ones will be found in the tool boxes and tool drawers of the average homeowner. These regular tape measures can be found at just about all home improvement stores and hardware stores for a small price and they usually have a warranty for life.
There are several different styles and lengths to choose from, from regular tape measures to laser distance measures, laser levels and traditional spirit levels but for the price of only 8.99, you can't go wrong with this one from Johnson Level, manufacturer of levels, laser levels and construction measuring tools. This is a brand new type of tape measure from Johnson Level and you can find it at Amazon.com for a similar price.
Description
This tape measure is the 1804-0025, a 25 foot power tape measure made of impact resistant rubber and plastic, and weighing only 13.4 ounces. This tape measure is black and yellow in color and has an automatic blade lock. The blade is protected with a nylon coating, to prevent any nicks or help prevent it from being damaged. The blade has printed numbers on one of the sides of the tape; the graduations are in 1/16th increments on the upper side and on the lower side they are in fractional 1/16" marks.
The blade has four rivets which hold the Stainless steel blade hook to the end. The blade hook is held in place loosely to allow you to measure outside and inside measurements. The lower side that has the highlighted fractional marks help you with speed reading. This tape measure has the nick name of the Tiger Claw because of the shape of the blade hook. Every 12 inches is marked by a black mark with the foot mark adding up as you go. Every 16", there is a mark because this is the industry standard for studs when building a house. Plus there is a diamond marking on the top scale of the tape measure every 19.2 inches for floor truss or floor layouts with an 8-foot sheet (8 feet can be divided into approximately five sections of 19.2 inches). They provide a quick visual for the tape user and speed up the measuring process.
This tape measure series also comes in 12 foot (1804-0012) and 16 foot (1804-0016) lengths.
Experience
This type of tape measure works opposite of the other ones, because when you pull the blade out it stays in the locked position until you depress the button on top. When you do that, watch out because the speed of the blade when it travels back into the holder is fast. You can release the button several times as the blade returns, to safely control the speed.
When you do as many home projects as I do, it is a great help to know that the measurement that I am reading is accurate and easy to read. From measuring the smallest if things to measuring the dimensions of a whole room, this is exactly what the doctor ordered. You can hook this on your belt with the belt clip that is attached to the side of the tape measure. This will help when you are in a pinch and need an extra hand when holding this at the ready.
Conclusion
With the addition of the Auto-lock make this my favorite to free up your other hand and help hold the tape in place to be able to read with speed and accuracy. I have dropped this from eight feet in height and all it did was bounce. This is a very durable tape measure and I think it will last for years to come. My daughter is just starting to learn fractions in school, so what better way to help her out than to let her help me with my projects.
I am confident she will enjoy doing this, plus the advantage of knowing that she is being able to see and read the correct numbers. I know that the tiger claw end hook will stay attached a lot better than the other brands.