WANT TO SHARE SOME OF YOUR PROFESSIONAL KNOWLEDGE? Submit an article (1,000 word min.) to LEVELPEDIA.COM and if we use it, we'll ship you a brand new Glo-view® Box Beam Level! Topics can include how you use a level or laser level or how to complete a project. LEVELPEDIA.COM is your online resource - used and created by you.
Send your article to: emarketing@johnsonlevel.com.


---
Johnson Wants You to Learn About Levels, Laser Levels and Measuring Tools!
LEVELPEDIA.COM is Your Online Resource to Learn About Construction Tools
How Tools Work:
Use this section for a quick understanding of tools, in an easy-to-read format.



What are the differences between I-beam Levels and Box Beam Levels?
Why is green a better color for lasers and levels?
How do you use a carpenter square or combination square?

Uses and Applications:
Use this section to get jump started on where to use your levels and laser levels.



If I'm a building contractor, can I use either a rotary laser or an optical level?
What Product Applications are the best fit for what tools?



Choosing the Right Tool:
Use this section as a double-check on your next purchase.Making sure you have the right tool for the job is important to buying the features you need and not buying features you don't!



What's important when it comes to buying Rotary Laser Levels?
How do I choose a laser distance measuring tool?
What features on laser levels do I need for what jobs?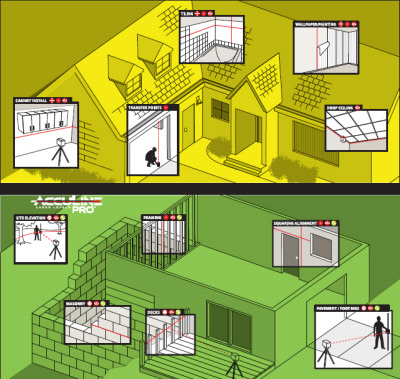 Video: How to Establish Grade and Elevation on a Construction Job Site
Johnson Level & Tool
Here, Johnson Level demonstrates using the 40-6535 electronic self-leveling rotary laser level on a construction jobsite for establishing a grade from either a known point of elevation or the height of the instrument. Finding elevations is important to grading, excavation and building up. Johnson Level's primary outdoor red-beam construction laser level is the 40-6535.
VIDEO SCRIPT
Hello my name is Dave Statza and I'm with Johnson Level & Tool. Today, we're demonstrating the outdoor applications for the Johnson 40-6535 electronic self-leveling laser level. This is by far one of our most popular exterior lasers because of the 2,000 foot range this laser has and the accuracy of 1/16" of an inch at 100 feet. Some important accessories to have when you're working outdoors with a laser is a tripod.
This is a stand that the tripod [laser] would mount to and this is what anchors itself into the ground [pointing to the tripod's feet]. Also is a grade rod and detector. Not this detector is a receiver sees the laser beam for me outside to help us determine elevations on the job site.
Simply turn the laser level on by pushing the power button and the laser will electronically self-level itself. Once it's level, it will start rotating and sending out a signal that I can capture on my detector. Now, on most job sites there's already a known point of elevation that a surveyor has transferred out to the job site. But if there is no known point of elevation on the job site you can establish your own benchmark just by going to the same reference point and establishing what you're height of instrument is.
Turn your detector on and move your detector until you receive a signal from the laser. A down signal will tell me that I have to move the laser detector down and an up signal will tell me I have to move the detector up. When the detector is on-grade or level with the laser beam, it gives me a solid tone. Now I know my laser level is setup at 4 foot 4 and 7/8 inches
Now to determine elevations on a job site, I would move to a different location and once again move that laser level detector until I get a signal from the laser beam [adjusts the laser detector]. I now know that my new elevation is 3 feet 4 inches.
By knowing the different elevations between my benchmark and my new point, I now know that I am approximately 2 feet higher in this position than I was at my benchmark. Which is important for grading purposes, to make sure the water runs away from the house. So you need to know the different elevations from your benchmark and from your different points on a job site because all job sites have different terralins and different elevations. For whether you're digging a basement, or digging footers, or adding dirt to create slope for water flow away from the house, that's why its important to know what these different elevations are for.
©2010 Johnson Level & Tool Mfg. Co., Inc.