Glo-View Digital Levels

Glo-View Box Levels

Glo-View Magnetic
Torpedo Level

Glo-View Heavy
Duty Magnetic Torpedo Level
Glo-View® is about Levels you can read in the dark.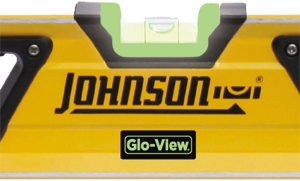 The formula is simple:
Start with a Cat's Eye Green spirit level (or bubble level) vial.
Add patented "glow" material to the area surrounding the vial.
Charge the

Glo-View®

vial system by sunlight or a flashlight.
Use for hours and repeat.
Start with a Green Level Vial
Quite simply, Green is the easiest color for the human eye to detect. In the visible light spectrum, it's the most visible color, with purples, blues and oranges being the least visible.
Glo-View®

Material Needed

We take a specially formulated and patented, glow-in-the-dark (phosphorescence) material and carefully blend it with other compounds, in varying degrees of concentration. The Glo-view® area in its concentrated form is well over $100/pound.
Glo-View® is Phosphorescent
The Glo-View® system works because of phosphorescence. Phosphorescence means The Glo-View® absorbs energy in the form of sunlight or even an LED flashlight, and then slowly releases the energy as light over several hours. Don't confuse this with Fluorescence, which is the release of visible light by a substance that has absorbed light of a different wavelength (for example, the material is energized through black light or light in the ultra-violet range).
Glo-View®

in the Dark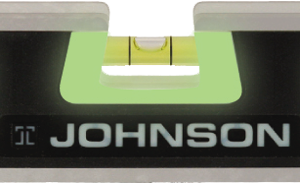 The three most important factors when considering a level are: durability, accuracy and readability. The Glo-View® levels are the only levels in the world that naturally maximize a level's readability in dimly lit and even dark environments. Professionals love Glo-View® for the jobs where light is scarce, such as inside cabinets, above drop ceilings and in closets and corners. When working outdoors, The Glo-View® levels allow you to continue working without eye strain. And when the job's done and the sun is gone, you will even be able to find your tool easier.
Plus, tools that glow, are pretty cool. For those in the military, think of it as our version of "night vision."
Glo-View® Levels are only made by Johnson Level: the Level and Laser Leader
Glo-View® Products